WORK WITH US
Become a part of our AMAZING summer camp team!
Kings Bay Y Summer Day Camps staff are committed to meeting the individual needs of each camper.  Join an outstanding group of individuals with creative energy and leadership skills who love camp.
Positions being offered Summer 2022:
Transportation Coordinator (21 yo+)
Summer Camp Specialists (21 yo+) for Art, Dance, Music, Fitness/Sports, Wellness, Cooking/baking, etc.
Lifeguards (1+ year experience )
Camp Customer Service Representative (20 yo+)
Division Leaders (21 yo+)
Head Counselors (18yo+)
Counselor ( 16 yo+)
CIT/Counselor in Training (15yo entering 10th grade +)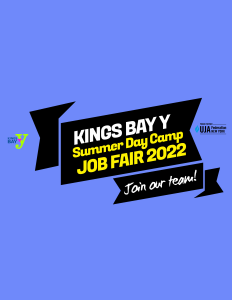 Bring your resume and meet with our senior camp staff members in person at one of our Summer Day Camp Job Fairs.
Don't miss this chance to secure a priority interview.
Friday, April 22nd from 2-6 PM
**You are not required to stay the whole time. You can come drop your resume off and complete our pre-interview questionnaire anytime between 2:00 pm – 6:00 pm
For more information, please contact 718-648-7703 ext. 0 or kbyhr@kingsbayy.org
apply now