Swim School
Ages 4 months -14 years old
Classes are available for all ages and levels; taught by licensed professionals and catered to individual needs. Based on their particular level, participants learn swimming skills such as water adjustment, front and back crawl, beginner dives, rhythmic breathing and more.
Register For Classes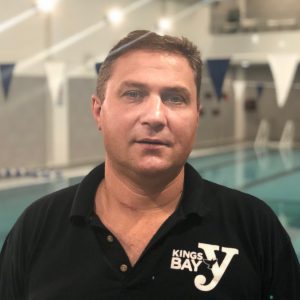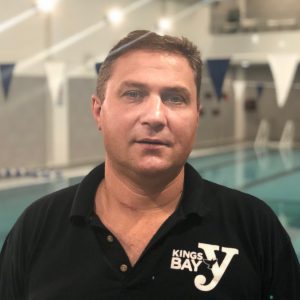 Eugene Prokhin
Director of Aquatics
Eugene Prokhin participated in the Sydney Olympics in 2001 as a member of the Kazakhstan Men's National Water Polo Team. He began his water polo career in the Former USSR…
read more
Pool Schedule
Effective Sep 3, 2019 - Jun 30, 2020
Our swimming pool, fitness center and gymnasium are closed until further notice.  All active memberships were put on hold effective Sunday, March 22, 2020, in accordance with Governor Cuomo's "New York on PAUSE" executive order. The expiration date of your membership will be adjusted to reflect the number of days we are closed for operation. 
*FP – Fee Program
*M – Monday through Friday from 10:00 am to 12:00 pm, the pool is open only to Senior Adult Day Care and Members who joined prior to 1/1/2013.
**Kings Bay Y reserves the right to make changes to the schedule   Kings Bay Y has the right to make changes to the schedule.
Sunday
7:30 am - 8:30 am Male Only
8:35 am - 10:20 am Open Swim
10:30 am - 2:15 pm Learn To Swim *FP
2:20 pm - 6:00 pm Open Swim
6:00 pm - 7:00 pm Adult Only
7:00 pm - 8:00 pm Female Swim
Monday
7:00 am - 8:00 am Female Only
8:05 am - 10:00 am Adult Swim
10:00 am - 12:00 pm Adult Swim *M
12:00 pm - 3:00 pm Open Swim
3:15 pm - 4:15 pm After School *FP
4:30 pm - 6:00 pm Learn to Swim *FP
6:00 pm - 7:30 pm Water Polo
7:35 pm - 8:40 pm Open Swim
8:30 pm - 9:50 pm Adult Swim
Tuesday
7:00 am - 8:00 am Male Only
8:05 am - 10:00 am Adult Swim
10:00 am - 12:00 pm Adult Swim *M
12:00 pm - 1:15 pm Preschool *FP
1:15 pm - 4:15 pm Open Swim
4:30 pm - 6:00 pm Learn to Swim *FP
6:00 pm - 7:30 am Learn to Swim *WP
7:35 pm - 8:30 pm Open Swim
8:30 pm - 9:50 pm Adult Swim
Wednesday
7:00 am - 8:00 am Adult Lap Swim
8:00 am - 9:00 am Female Only
9:00 am - 10:00 am Adult Swim
10:00 am - 12:00 pm Adult Swim *M
12:00 pm - 3:00 pm Open Swim
3:15 pm - 4:15 pm After School *FP
4:30 pm - 6:00 pm Learn To Swim *FP
6:30 pm - 7:30 pm Water Polo *FP
7:35 pm - 8:40 pm Open Swim
8:40 pm - 9:50 pm Adult Swim
Thursday
7:00 am - 8:00 am Male Only
8:00 am - 10:00 am Adult Only
10:00 am - 12:00 pm Adult Only *M
12:00 pm - 4:00 pm Open Swim
4:15 pm - 6:30 pm Learn to Swim *FP
6:30 pm - 7:30 pm Learn To Swim *FP
7:35 pm - 8:30 pm Open Swim
8:30 pm - 9:50 pm Adult Swim
Friday
7:00 am - 8:00 am Adult Swim
8:00 am - 9:00 am Female Swim
9:00 am - 10:00 am Adult Swim
10:00 am - 12:00 pm Adult Swim *M
12:05 pm - 3:20 pm Open Swim
3:30 pm - 5:00 pm After School Swim *FP
5:00 pm - 8:00 pm Water Polo *FP
Saturday
10:30 am - 3:00 pm Learn To Swim *FP
3:00 pm - 4:30 pm Water Polo *FP
4:30 pm - 7:00 pm Birthday Parties *FP